The iQ 360 team just finished unpacking from MozCon, a three-day conference where industry-leading experts in SEO, mobile, conversion optimization, local search and more come together to share tactical advice with attendees. Here's what they learned.
If you want to generate new leads, rank higher in Google searches and succeed in link building, the answer is simple: create quality content.
Sounds easy, right? In reality, producing standout content that informs and delights week after week takes more time, resources and creativity than most companies are willing to allocate.
How will you ensure your content rises above the noise? Follow these five tips for creating content that matters.
"Producing standout content that informs and delights week after week takes time, resources and creativity."
1. Develop an editorial calendar and stay vigilant for new opportunities
 No matter what industry you're in, creating quality content is often a team effort. It could include research, interviews with experts, graphic design, video production, and of course, copywriting. Having an editorial calendar will not only help you keep track of all your upcoming articles, it'll allow you to better coordinate with teammates, making the content creation process more efficient.
Having an editorial calendar is great, but you have to be ready to take advantage of opportunities as they arise as well. What's trending? What's in the news? Timely content, despite its shorter shelf life, will help improve site traffic and contribute to higher rankings on Google.
2. Research, rethink, remix
Ross Simmonds of Foundation Marketing suggests a new methodology for content marketing: research, rethink, remix.
In order to create high-performing content, first you need to understand what your audience wants. Research the channels they frequent and work on understanding how that content is received by its users.
After you've looked at engagement metrics and found the topics and stories that resonate most with your audience, rethink your own content and how you deliver it to your audiences.
Lastly, remix content that you know will work to ensure that it is better than what exists today. Does your audience visit Pinterest more than Reddit? Modify your content so that it is more easily shared as a visual image than a link.
3. Quality over quantity
After taking a look at your existing content and optimizing for sharing on your audience's preferred channels, how do you turn your high-quality content into a high-powered content strategy? According to Andy Crestodina of Orbit Media, you need to learn how to make content that people will link to. Nobody is linking to your company's services or about pages; most people start their visit on a blog post (just like most of you reading this right now).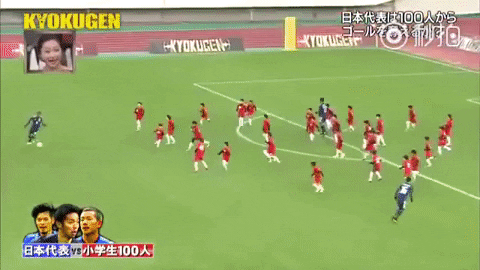 Many companies take that to mean that they should push out regular content, no matter the quality. However, 75% of articles have zero links and get no results at all (like the red team in the above soccer match). Be the blue team. Invest in a few high-quality pieces of content that will get more results than a hundred pieces of mediocre content.
4. Create original research
So, what kind of content gets the most results? Original research. LinkedIn status updates that include statistics along with a link to content get 162% more impressions and a 37% higher click-through rate. Crestodina says high-growth firms are three times as likely to publish original research as part of their content strategy, yet only 47% of companies actually do.
Find out what questions your audience is asking and work on finding the missing data. It's highly likely that the topic you're writing about has been written about before, but by providing updated statistics, your content will stand out as new, relevant and newsworthy. The outreach involved in research and gathering data will also grow your network of collaborators and increase awareness for your brand.
5. Optimize for Google featured snippets
You've done the work and created great content. But all your effort will go to waste if no one actually reads it. One way to get eyes on your post is through Google featured snippets. Featured snippets provide users with the answers they seek on the search results page. In Q1 2019, Google solved 48.96% of user searches without a click. That's over 75 billion searches that Google resolved using featured snippets and the People Also Ask feature.
Britney Muller, senior SEO scientist at Moz, has some great tips to target featured snippet opportunities:
Identify keywords you rank high on
Understand the searcher's intent
Provide succinct answers Google can use
Add a summary to posts
If you've been churning out content for content's sake, take a moment to evaluate what you're doing and what you're trying to achieve. These tips will help you create high-powered content that showcases your brand, builds trust among your target audience and ultimately fulfills your business objectives.